Where you go –
There are many things to see and do in Alaska in the winter. Many guests put together tours that cover a number of different winter activities. Anchorage is a great starting point for people that would like to combine skiing, snowmobiling and dog sledding trips.
March and early April are a great time to come to Alaska for a winter vacation. The weather has moderated from its winter lows, and airline tickets, lodging and attractions are generally less expensive than other times of the year.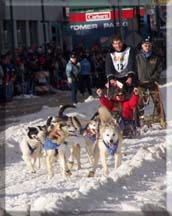 The first weekend in March is the start of the Iditarod Sled Dog Race, a 1000 mile race from Anchorage to
Nome. Dog mushers from all over the world come to compete in the most prestigious event in the dog world. It is a great time for
spectators, too, with parties, balls, festival events, as well as the race itself. Spectators come from far and wide, and many will "chase the race", flying from checkpoint, and ending up in Nome for the finish.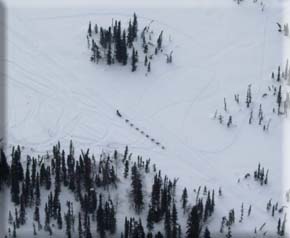 Some of the checkpoints along the way are world class wilderness lodges, with gourmet food, fantastic
lodging, and world-class hospitality. You can combine a Chase the Race tour with any one of a number of winter activities, including downhill or cross-country skiing, snowmobiling, snowshoeing, dog mushing and northern lights viewing. And then, there's always sitting by a nice warm fire!
If dog racing isn't your thing, perhaps a trip to witness nature's spectacular light show is in order. The best time to see the Aurora Borealis, or northern lights, is in the spring months, from late February to early April. Earlier in the year, it is generally quite cold, and while the northern lights may be visible, many guests prefer to be inside near the fire, rather than standing outside looking at the sky. And in the fall, when it is generally warmer, it is also often cloudy, so seeing the northern lights then can be hit-or-miss. Of course, the summer would be perfect,
except that the midnight sun keeps the northern lights from being viewed from late April through August.

What You See –

Alaska is spectacular in the winter, with everything coated with snow. Snowmobile trips can take you to spots in the backcountry that you can't reach otherwise.

Multi-day dog sledding tours give guests a taste of Alaska as it was 100 years ago, traveling from cabin to cabin by dog sled. The northern lights are a sight you'll never forget, with shimmering sheets of green, purple, blue and red stretching and dancing across the sky. And to top it all off, you can watch them from the cozy, steamy seat of a hot tub at one of Alaska's hot springs. In March, you can watch the start of the world's most famous dog sled races, the Iditarod.
What You Bring –

For many of the more specialized trips, tour operators provide the necessary cold weather gear for your visit. For others, guests will need to have high quality winter clothing. When purchasing winter clothing for your visit to Alaska, you should seek out stores and retailers that specialize in such winter gear. Many retailers in other parts of the United States do not carry or have the necessary knowledge to advise you on the proper items for your visit.
If you visit in February or March, the weather has moderated to the point that the winter weather you're likely to experience will be not too different than what you're used to at home.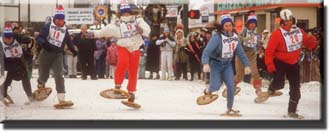 See Our
Spring Northern Lights Package
1-877-MY ALASKA (692-5275)
DESTINATIONS
Anchorage | Fairbanks | Juneau | Homer | Seward | Valdez | Whittier | Talkeetna
Kenai Peninsula | Kenai Fjords National Park | Denali National Park | Wrangell St. Elias NP
ATTRACTIONS
Kayaking | Rafting | Flight Seeing | Sled Dog Tours | Glacier Tours | Fishing | Geocaching
Hiking | Eco Tours | National Park Tours | Northern Lights Tours | Wildlife Tours | Winter Tours

Home | Plan A Vacation | Attractions | Lodging | Fishing | Honeymoons | Cruises | Site Map
Copyright ©2011 Alaska Vacation Store. All Rights Reserved
Terms and Conditions | Privacy Policy | Partners | About Us | What to Bring | Contact Us | AlaskaBlog
Telephone: 877.692.5275 or 1.907.334.2888 Skype: wigiavs
Yahoo! IM: alaskavacationstore