Things to See & Do -
Whittier is located on Prince William Sound, and is the arrival and departure point for most cruise ship trips that make terminal port calls in Alaska. In addition, there are numerous opportunities to explore the wildlife, fjords and glaciers of western Prince William Sound. Daily glacier and wildlife cruises depart from Whittier, cruising among the icebergs and wildlife of the sound. In addition, one can explore the sound from a kayak, with many different kayaking options available.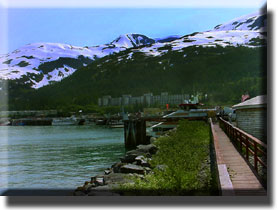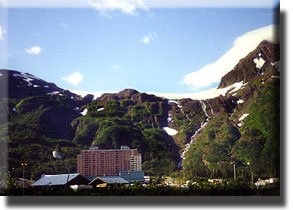 Places To Eat –
Whittier is a very small town, and until just a few years ago, the only access to Whittier was by air or rail. As a result, the options for food and lodging in Whittier are relatively limited. Since people generally visit Whittier as a part of a day trip, food and lodging is generally had in Anchorage or Girdwood. However, many of the attractions that people visit in Whittier, such as full day kayaking and glacier cruises provide lunch as a part of their activities.
Places to Stay –
People visiting Whittier generally stay in Anchorage or Girdwood. Girdwood is an eclectic and quaint town about 20 miles from Whittier, on Turnagain Arm. While the number of lodging choices in Girdwood is relatively small, they include some of the nicest hotels, lodges and bed and breakfasts in the state.
Geography –
Whittier is located on the western end of Prince William Sound, in the Chugach Mountains. The town is surrounded by tall, spectacular mountains, ice fields and glaciers. Whittier can be reached by the Alaska Railroad, or by road though the Whittier Tunnel. This tunnel is notable because it is shared between the railroad and highway traffic, and that traffic can only pass one direction at a time. Thus, drivers must wait for scheduled tunnel openings. The tunnel connects to the Seward Highway via Portage Valley Road in Portage.
Climate –
Whittier's climate is influenced by its proximity to water, mountains and glaciers. As a result, weather can change quickly, from quite pleasant to terrible in a matter of minutes. Even so, many summer days in Whittier are quite pleasant, with temperatures in the 60's and low 70's. Many other days are windy, rainy and cool, with temperatures struggling to reach 55. In the winter, the same pattern continues, but with considerable snow and rain. Temperatures are generally in the 20's and 30's, with frequent strong winds.
1-877-MY ALASKA (692-5275)
DESTINATIONS
Anchorage | Fairbanks | Juneau | Homer | Seward | Valdez | Whittier | Talkeetna
Kenai Peninsula | Kenai Fjords National Park | Denali National Park | Wrangell St. Elias NP
ATTRACTIONS
Kayaking | Rafting | Flight Seeing | Sled Dog Tours | Glacier Tours | Fishing | Geocaching
Hiking | Eco Tours | National Park Tours | Northern Lights Tours | Wildlife Tours | Winter Tours

Home | Plan A Vacation | Attractions | Lodging | Fishing | Honeymoons | Cruises | Site Map
Copyright ©2010 Alaska Vacation Store. All Rights Reserved
Terms and Conditions | Privacy Policy | Partners | About Us | What to Bring | Contact Us | AlaskaBlog
Telephone: 877.692.5275 or 1.907.334.2888 Skype: wigiavs
Yahoo! IM: alaskavacationstore