Things to See & Do -
Life in Homer revolves around the ocean. Guests often come to Homer for the fishing. There are numerous options available for saltwater fishing for halibut and salmon. Freshwater salmon fishing is available in the streams of the Kenai Peninsula north of Homer. Guests to Homer also take water taxis over to Seldovia and Halibut Cove. A number of all-inclusive lodges are also located in the area, and across Cook Inlet. Homer is also the closest point on the mainland of Alaska to Katmai National Park and bear viewing. Guests can hire a flight to Katmai in Homer.
For the artistic types, Homer is the self proclaimed artisan capital of Alaska and many galleries, be it photography, sculpting, oils or watercolor, abound. Nearby to Homer and adding to its rich diversity, traditional Russian and Alaskan Native villages add a unique flare to the local experience.
For the wildlife enthusiast, Homer is home to many species of animals from the nearly overly abundant bald eagle population to the fantastic array of marine wildlife. For the OTHER type of wildlife enthusiast, the historical Salty Dawg Saloon calls the Homer Spit home. Almost always filled to capacity with locals and visitors alike, the Dawg is the place where many a fishing tale has been told.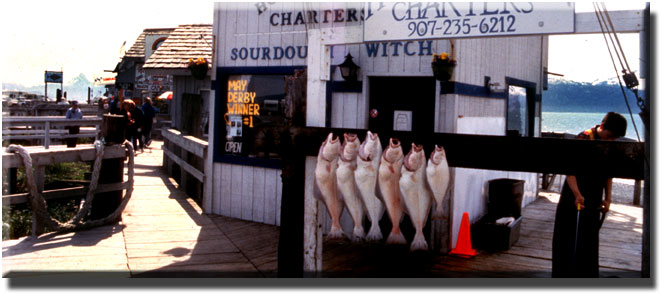 Places To Eat –
There are a number of great places to eat in Homer. Many guests head to Homer Spit to partake in one of the great restaurants there. Boardwalk Fish and Chips doubles as a local favorite as well and is open year round. A number of fantastic restaurants can also be found around town. For the fine dining fare, a visit to the Connelly House will fill your fresh seafood quota quite nicely. Although you can find everything here from Cajun to Thai and Chinese, as one might expect, the predominant local fare is seafood.
Places to Stay –
Homer has a generous mix of hotels, inns, lodges and bed and breakfasts. Your travel consultant can assist you in choosing the lodging that best meets your needs.
Geography –
Homer is located on the shores of Kachemak Bay, an arm of Cook Inlet. The town's most interesting geographical feature is Homer Spit, an arm of sand and gravel that reaches several miles into the bay. Views across the bay and Cook Inlet provide vistas of the Kenai Mountains, glaciers and the volcanoes of the Alaska Peninsula. Reaching Homer can be done by taking the Sterling Highway south from the Seward Highway and Anchorage. Also, the Alaska Marine Highway provides ferry service to Kodiak, Seldovia and southwest Alaska. Homer offers a full service airport with daily flights in and out, as the weather permits.
Climate –
Homer's climate is heavily influenced by its proximity to the ocean. Summer temperatures are typically in the 60's, but rainy days are common, and a breeze off the water can cool things off into the 40's and 50's. Winter weather in Homer is cold, with both rain and snow. Average annual precipitation is about 25 inches, with about 50 inches of snow a year.
1-877-MY ALASKA (692-5275)
DESTINATIONS
Anchorage | Fairbanks | Juneau | Homer | Seward | Valdez | Whittier | Talkeetna
Kenai Peninsula | Kenai Fjords National Park | Denali National Park | Wrangell St. Elias NP
ATTRACTIONS
Kayaking | Rafting | Flight Seeing | Sled Dog Tours | Glacier Tours | Fishing | Geocaching
Hiking | Eco Tours | National Park Tours | Northern Lights Tours | Wildlife Tours | Winter Tours

Home | Plan A Vacation | Attractions | Lodging | Fishing | Honeymoons | Cruises | Site Map
Copyright ©2010 Alaska Vacation Store. All Rights Reserved
Terms and Conditions | Privacy Policy | Partners | About Us | What to Bring | Contact Us | AlaskaBlog
Telephone: 877.692.5275 or 1.907.334.2888 Skype: wigiavs
Yahoo! IM: alaskavacationstore