Where you go –
There are a number of guided hiking options available to visitors to Alaska. Commercial vendors provide hiking tours that include an interpretive guide and snacks or a meal. In addition, Some of the national parks, such as Denali National Park, offer guided hikes with rangers on a daily basis. Guided glacier hikes are available in a number of locations, where your guide outfits you with the necessary equipment and you set off on a trek across a glacier. Lastly, a number of companies provide fly-in hiking, where guests are dropped off in remote country, and picked up some hours later at an arranged location.
What You See

–

Hiking in Alaska is as varied as the countryside. In many parts of the state, you're likely to encounter wildlife, such as moose and bears. In some areas, especially in those areas that are higher in elevation, hikers may see Dall sheep, and in tundra areas, caribou.

Hikers should make sure that they're familiar with proper wildlife etiquette and safety rules. While dangerous animal encounters are rare, they are not unheard of, and Alaska's animals are often dangerous when not treated with the proper respect. In addition, if hikers are considering bringing deterrents such as pepper spray or firearms along on your hike, make sure you are familiar with the use of them, and that you are not in an area that is restricted to the use of such items.

Unlike many areas in other parts of the United States, much of the hiking is on unimproved trails, or above the tree line. River and stream crossings rarely have bridges, and so hikers will have to wade across them.
What You Eat –
Some of the professionally guided hiking companies provide lunches as a part of their tours. Others do not provide food, since the hikes themselves are so short, or the company is providing only the transportation to and from the hike, as in heli-hiking. You should consult with your guides or your travel consultant about the specifics of your hike.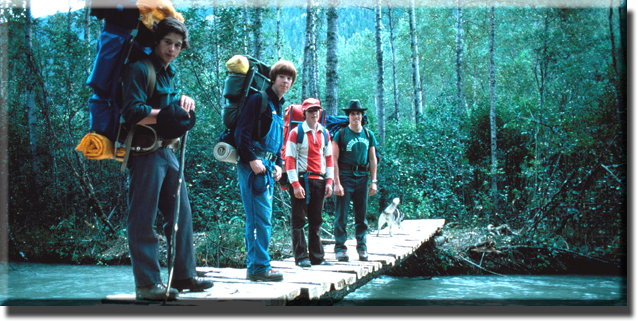 What You Bring –
Unless the hike requires specific equipment, such as a guided glacier hike, hikers are expected to bring all of their own hiking equipment. Shoes, packs, and other hiking equipment basics are a matter of personal choice, and because the hiking options are so varied in Alaska, there is no single answer to what works best.
There are a number of important considerations when hiking in Alaska that are universal. First, weather changes rapidly, and winter-like conditions are possible on every day of the year. Even less severe weather can be uncomfortable at least, and dangerous or life threatening, if a hiker is injured or delayed in reaching the end of their hike.
Proper clothing and preparation is a must. Plan for rain, and bring or wear proper clothing for a wide range of temperatures. Extra food and water is a good idea in every case. Every year, hikers in Alaska get lost or injured, and spend days in the wilderness when just a few hours was planned.
1-877-MY ALASKA (692-5275)
DESTINATIONS
Anchorage | Fairbanks | Juneau | Homer | Seward | Valdez | Whittier | Talkeetna
Kenai Peninsula | Kenai Fjords National Park | Denali National Park | Wrangell St. Elias NP
ATTRACTIONS
Kayaking | Rafting | Flight Seeing | Sled Dog Tours | Glacier Tours | Fishing | Geocaching
Hiking | Eco Tours | National Park Tours | Northern Lights Tours | Wildlife Tours | Winter Tours

Home | Plan A Vacation | Attractions | Lodging | Fishing | Honeymoons | Cruises | Site Map
Copyright ©2010 Alaska Vacation Store. All Rights Reserved
Terms and Conditions | Privacy Policy | Partners | About Us | What to Bring | Contact Us | AlaskaBlog
Telephone: 877.692.5275 or 1.907.334.2888 Skype: wigiavs
Yahoo! IM: alaskavacationstore