Where you go –
Boat trips to view tidewater glaciers are available in Glacier Bay National Park, Kenai Fjords National Park, and in the areas around Prince William Sound.
What You See –

Visitors to the glaciers will experience the power and majesty of these rivers of ice. Some glaciers are a mile or more across where they meet the sea, and hundreds of feet high. The action of wind and waves, and the constant but slow motion of the glacier cause pieces to fall off, or "calve" into the water. The spectacular sights and sounds of hundreds of tons of ice crashing into the water will not be soon forgotten. In addition to the glaciers, there will be spectacular mountains and scenery, and abundant marine wildlife, including seals, sea otters, porpoises, sea and shore birds, and occasionally whales.
What You Eat –
Most glacier cruises provide a meal on board their ship. These range from deli sandwiches to prime rib and salmon buffets.
What You Bring –
All of the glacier cruises provide covered, climate-controlled cabins for the comfort of their guests. However, guests should strongly consider bringing comfortable raingear, so that you can be on deck, even when the weather is poor. The reason is that the views are more spectacular when you're not looking through a rain-spotted window, and the colors of the glaciers are more spectacular in cloudy conditions. Of course, you'll also want to bring your camera, to capture photos of some of the most spectacular scenery and animals on Earth!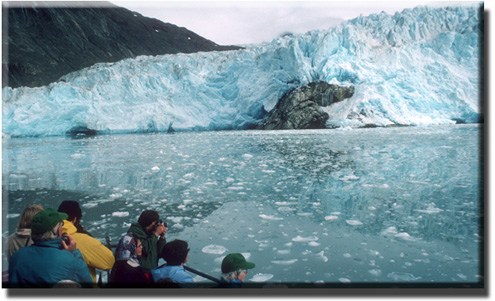 1-877-MY ALASKA (692-5275)
DESTINATIONS
Anchorage | Fairbanks | Juneau | Homer | Seward | Valdez | Whittier | Talkeetna
Kenai Peninsula | Kenai Fjords National Park | Denali National Park | Wrangell St. Elias NP
ATTRACTIONS
Kayaking | Rafting | Flight Seeing | Sled Dog Tours | Glacier Tours | Fishing | Geocaching
Hiking | Eco Tours | National Park Tours | Northern Lights Tours | Wildlife Tours | Winter Tours

Home | Plan A Vacation | Attractions | Lodging | Fishing | Honeymoons | Cruises | Site Map
Copyright ©2010 Alaska Vacation Store. All Rights Reserved
Terms and Conditions | Privacy Policy | Partners | About Us | What to Bring | Contact Us | AlaskaBlog
Telephone: 877.692.5275 or 1.907.334.2888 Skype: wigiavs
Yahoo! IM: alaskavacationstore