Things to See & Do -
Juneau is a great place to explore Southeast Alaska and watch whales. Whale watching and sightseeing cruises are available daily throughout the summer. Flightseeing tours are available of the islands, straits, glaciers and icefields of the region, and bear viewing is available at times throughout the summer. One can ride the Mt. Roberts Tramway to get fantastic views of Juneau and Gastineau Channel. For the fisherperson, salt water fishing charters are available at the Juneau waterfront. Mendenhall Glacier comes down out of the mountains and presents a fantastic view of one of Alaska's most famous and impressive glaciers.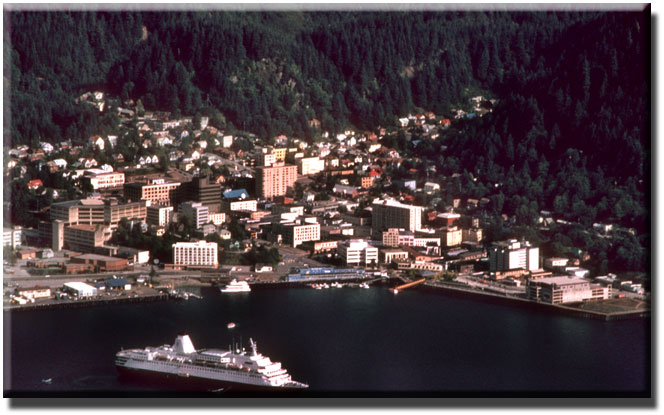 Places To Eat –
Juneau has quite a few fine hotels and inns, and a number of wonderful bed and breakfasts. Just let us know what you're looking for in your accommodations, and we can connect you with lodging that will make your visit to Juneau unforgettable.
Geography –
Juneau is located on the shores of the Gastineau Channel, in Southeast Alaska. Even though Juneau is on the mainland of North America, it is only reachable by plane or ship. Gastineau Channel is a relatively protected body of water that communicates with the Pacific Ocean. The town of Douglas is located just across from Juneau, and is reachable by bridge.
Climate –
Juneau's climate is heavily influenced by its proximity to the ocean. Frequent storms come in off the ocean all throughout the year, though summer storms tend to be less intense. Overall, Juneau is one of the wetter locations in Alaska, but has quite a few sunny days. Summer temperatures tend to be mostly in the 60's, with occasional warm days in the 70's. Winter weather is characterized by frequent rain and snow storms. Because of the influence of the ocean, temperatures tend to be rather moderate in the winter compared to other locations in Alaska. Temperatures occasionally will drop below zero, but they are more likely to be above freezing, and rain is as likely as snow.
1-877-MY ALASKA (692-5275)
DESTINATIONS
Anchorage | Fairbanks | Juneau | Homer | Seward | Valdez | Whittier | Talkeetna
Kenai Peninsula | Kenai Fjords National Park | Denali National Park | Wrangell St. Elias NP
ATTRACTIONS
Kayaking | Rafting | Flight Seeing | Sled Dog Tours | Glacier Tours | Fishing | Geocaching
Hiking | Eco Tours | National Park Tours | Northern Lights Tours | Wildlife Tours | Winter Tours

Home | Plan A Vacation | Attractions | Lodging | Fishing | Honeymoons | Cruises | Site Map
Copyright ©2010 Alaska Vacation Store. All Rights Reserved
Terms and Conditions | Privacy Policy | Partners | About Us | What to Bring | Contact Us | AlaskaBlog
Telephone: 877.692.5275 or 1.907.334.2888 Skype: wigiavs
Yahoo! IM: alaskavacationstore