Where you go –
Most National Parks in Alaska limit the access that individuals have in the parks. Most are inaccessible by road, or have no private vehicle access. In these cases, the best way to visit the park is on one of the many tours available.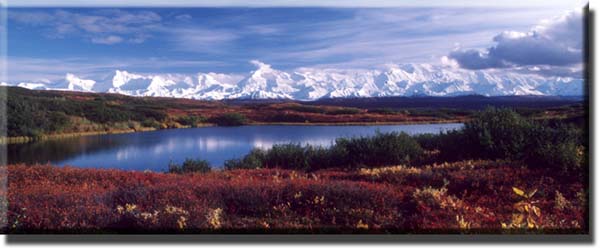 In Denali National Park, there are a number of different options available, ranging from the park shuttle bus system to overnight tours where you spend the night at one of the lodges in Kantishna. In Kenai Fjords National Park, a number of companies operate tours by boat, with interpretive services provided by a National Park Ranger. At other parks in Alaska, tours vary depending upon the specifics of the park. Many of Alaska's parks are only accessible by plane, such as Gates of the Arctic, and Yukon – Charley, and visitors must arrange their visits with outfitters.
What You See –
Each of Alaska's national parks has its own character and sights. Denali National Park is known for its wildlife, as well as for North America's highest peak, Mt. McKinley.
| | |
| --- | --- |
| | Gates of the Arctic National Park features spectacular vistas ranging from rugged mountains to the tundra and even sand dunes. It is best experienced from one of the many rivers that flow through its boundaries. Kenai Fjords National Park is best seen from the water, where guests will see wildlife, spectacular scenery, and on longer tours, some of the park's glaciers. |
Some of the best tours of Wrangell St. Elias National Park are flight seeing tours, though there are some great lodges in the park at McCarthy. Glacier Bay has numerous glaciers, fjords, islands, and abundant wildlife.
What You Eat –
Each tour is different, so guests should consult with the tour operator or their travel consultant about the specifics of their tour. Some include meals, or meals and lodging, and other do not.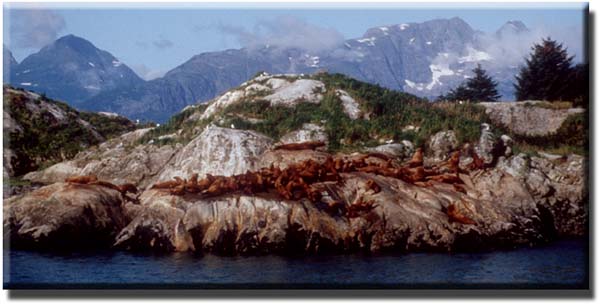 What You Bring –
The specific items that you will need to bring with you for your tour will depend on where you are and what your tour provides. However, guests should be prepared for inclement weather, especially if the tour includes time out of doors. Tours are generally not cancelled for weather reasons, so rain and cold weather are possible on any day. Of course, a camera is a great idea, and for extended visits where there are no meals provided, you should bring whatever food and water you're going to need for your stay.
1-877-MY ALASKA (692-5275)
DESTINATIONS
Anchorage | Fairbanks | Juneau | Homer | Seward | Valdez | Whittier | Talkeetna
Kenai Peninsula | Kenai Fjords National Park | Denali National Park | Wrangell St. Elias NP
ATTRACTIONS
Kayaking | Rafting | Flight Seeing | Sled Dog Tours | Glacier Tours | Fishing | Geocaching
Hiking | Eco Tours | National Park Tours | Northern Lights Tours | Wildlife Tours | Winter Tours

Home | Plan A Vacation | Attractions | Lodging | Fishing | Honeymoons | Cruises | Site Map
Copyright ©2010 Alaska Vacation Store. All Rights Reserved
Terms and Conditions | Privacy Policy | Partners | About Us | What to Bring | Contact Us | AlaskaBlog
Telephone: 877.692.5275 or 1.907.334.2888 Skype: wigiavs
Yahoo! IM: alaskavacationstore