Things to See & Do -
Valdez is one of the most scenic places in Alaska, situated on Prince William Sound. Visitors to Valdez often take glacier and wildlife cruises on Prince William Sound. Valdez has the best and quickest access to sea kayaking around tidewater glaciers within roadway Alaska. For guests that have a car, you can drive out of town and into Thompson Pass, one of the snowiest places in the world. In fact, the Richardson Highway passes through Thompson Pass, and is part of a great scenic loop, that starts in Anchorage, heads north and east along the Glenn Highway, then south to Valdez on the Richardson Highway. Guests complete the loop by taking the Alaska Marine Highway ferry from Valdez to Whittier, and then heading north on the Seward Highway back to Anchorage. Visitors also have the opportunity to see the Trans Alaska Pipeline along the way. The pipeline ends in Valdez, 800 miles south of Prudhoe Bay and the oilfields. Access to the terminal is limited because of terrorist concerns. Another important and popular activity in Valdez is fishing. Charters for salmon and halibut are available in Valdez.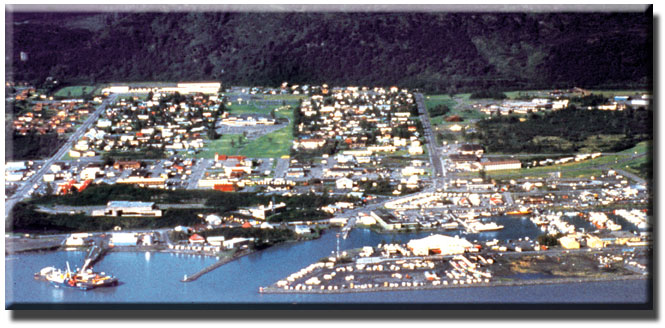 Places To Eat –
Restaurant choices in Valdez are relatively limited. There are restaurants in some of the hotels, and there are a fair number of small restaurants and sandwich shops.
Places to Stay –
Valdez is a small town, but there are a number of lodging options available for guests, including full service hotels, and bed and breakfasts. Talk to your travel consultant about your preferences, and we can find just the right choices for you.
Geography –
Valdez is located on Prince William Sound. Even though the town is at sea level, it is surrounded by mountains. The only road access in and out of Valdez is along the Richardson Highway, which connects Valdez to Fairbanks, with junctions to the Glenn Highway and the Alaska Highway, as well as several other small roads that lead into the Copper River Valley.
Climate –
Summers in Valdez are rather mild, but because of the proximity to the ocean, the weather is frequently rainy. Valdez receives about 65 inches of precipitation each year. Early in the summer, the rainfall amounts are generally light, but as the summer progresses, the weather gets wetter. June is the driest month of the year, and September the wettest. Temperatures average in the low 60's for most of the summer, with lows in the 40's. Winters in Valdez are cold and snowy. The average annual snowfall is about 300 inches a year. Thompson Pass, just north of Valdez, is the snowiest place in North America. Winter temperatures in Valdez are generally in the 20's, but vary as storms bring in warm air from the ocean, or cold air filters in from the north.
1-877-MY ALASKA (692-5275)
DESTINATIONS
Anchorage | Fairbanks | Juneau | Homer | Seward | Valdez | Whittier | Talkeetna
Kenai Peninsula | Kenai Fjords National Park | Denali National Park | Wrangell St. Elias NP
ATTRACTIONS
Kayaking | Rafting | Flight Seeing | Sled Dog Tours | Glacier Tours | Fishing | Geocaching
Hiking | Eco Tours | National Park Tours | Northern Lights Tours | Wildlife Tours | Winter Tours

Home | Plan A Vacation | Attractions | Lodging | Fishing | Honeymoons | Cruises | Site Map
Copyright ©2010 Alaska Vacation Store. All Rights Reserved
Terms and Conditions | Privacy Policy | Partners | About Us | What to Bring | Contact Us | AlaskaBlog
Telephone: 877.692.5275 or 1.907.334.2888 Skype: wigiavs
Yahoo! IM: alaskavacationstore